What do you plan to give the shoe lover on your list this holiday season? Here's my top ten shoe gift picks. I suggest ordering soon as Christmas is only ten days away!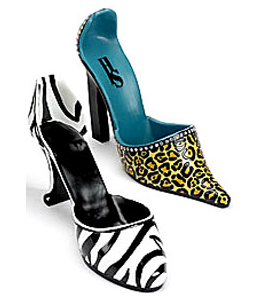 1. High Heel Wine Bottle Holder – on sale for $24.49 from Boscov's – pair with or without a bottle of wine (even a High Heel Wine Stopper), and I guarantee it'll be a hit!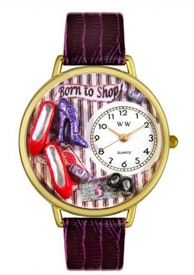 2. Shoe Shopper Watch in Gold or Silver with Personalization available, $59.99 (or 4 Easy Payments of $15) from Palm Beach Jewelry – I love this!
3.   Just the Right Shoe 2011 Calendar – $9.99 from Borders.com
4. Peek A Boo 4-Shoe Bag Pack in Fuschia Cotton (my pick) or Khaki Cotton – great for shoe lovers who travel a lot, $36 with free shipping from Zappos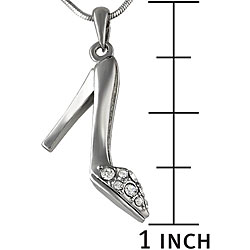 5. Silvertone Stiletto Charm Necklace – only $8 from Overstock.com (am sending the link to my kids right now as they wanted inexpensive ideas on what to get me)
The remaining give shoe gift ideas I've written about in the past year that are still available. Simply click on the links for images and more information.
6. If the Shoe Fits Handbag – classy at $69.95
7. High Heel Pie/Cake Server – affordable at $19
8. Christian Louboutin Barbie Dolls – the Dolly Forever Barbie and Cat Burglar Barbie are currently both on sale for $105
9. ShoeDazzle Membership – buy one month or as many as you'd like – they get to pick the shoes of their choice.
10. Homemade Gift Idea – If your budget is low and you're crafty, you could make this PMS = Purchase More Shoes quite easily (I love the one my friend made me).