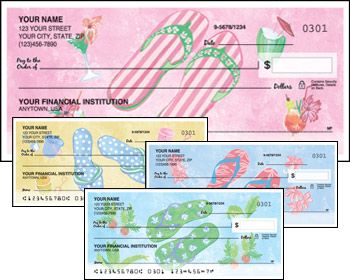 If you are unlike me* and love flip-flops, you'll flip over these Flip Flops Personal Checks from Styles Check!
Add a dash of sand, a pinch of flowers and a splash of sunshine the moment you slip into your favorite flip-flops. The Flip Flops check series includes checks, matching address labels, contact cards and a printed leather checkbook cover.
Styles Check Company is currently offering a Special Introductory Offer for First Time Customers – Buy 1 Box of Checks and Get the 2nd Box for only 49 ¢! Valid on ANY style of checks (they have a huge selection for all interests).
*I have a confession to make.   I was in Sunny California last weekend, and my friend, Lisa, caught me wearing flip-flops and gave me grief about it since I always talk about how I hate flip-flops. My defense was that my feet hurt after wearing heels all day, and they did look nice with my outfit.   I still hated that feeling of something between my toes and regretted wearing them after it was too late to change. So there.